Sample Certifications
Students receive certification immediately following course completion. Certification cards for no additional fee!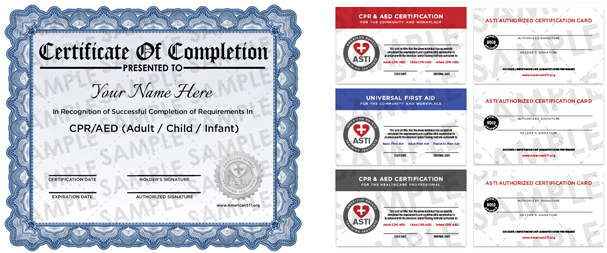 After successfully completing each course, students will receive instant certification from the American Safety Training Institute. Certificates are signed by an authorized safety training instructor and are valid for two full years. Certification cards are mailed to you within 24 hours of completion, typically requiring two to three business days to arrive. Cards are also signed by an authorized safety training instructor and include an ASTI authorization hologram and certification number.
Our training courses are designed to prepare you for the certification exam. By simply following the material students should be able to complete each exam successfully. If, for any reason, you do not pass the exam, you can retake the exam for no additional fee. Our training is designed to be educational and no stressful. Our goal is for you to learn first aid and safety techniques and procedures, and not worry about the final exam. Traditional onsite courses often produce testing anxiety that can induce students to memorize course material to pass the exam and may result in students achieving a passing score but retaining very little of the information when it comes time to apply the skills they have learned. That is why we don't charge additional fees to retake the exam.
Review the course material at your own pace and don't worry about passing the certification exam on your first attempt. These techniques and procedures could be the difference between life and death!